Well, I can tell you one thing right now folks - that sun is a heck of a lot nicer than the rain they were forecasting! Let's hope it keeps up because this is going to be one fun weekend to hang out in the great outdoors!
Hamlet
opens tomorrow night for the season. Presented by
Shakespeare by The Sea
, it will be playing Fridays and Saturdays at 6 p.m. from now until August 20 at the Tattoo Field on Signal Hill.
On Saturday, don't miss the world famous
RCMP Musical Ride
! Yes, they ARE in NL, at the Goulds Race Track, Saturday afternoon!!! See calendar for complete details and website link to other event locations on the island over the next few days. Also, head over to the
Dub Show
, a car show for Volkswagen and European vehicles, that afternoon from 1-4 in Bowring Park. The show is free, just bring a non-perishable food item :-). Flowers more your thing? Check out the
5th Annual Rose Show
at MUN Botanical Gardens, which continues on Sunday as well.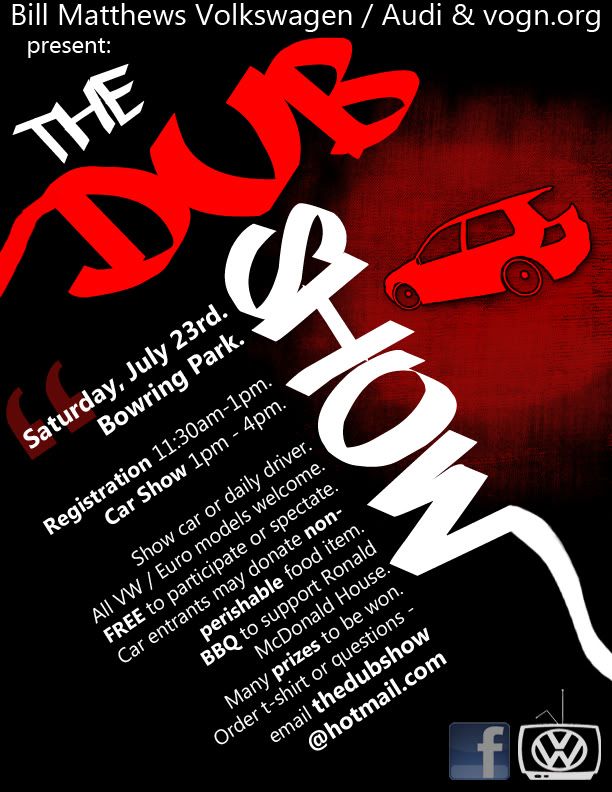 Photo: www.forums.vogn.org/viewtopic.php?f=41&t=996
Sunday brings the many regular activities that have been shaping up in the city over the summer:
SBTS performances
,
Nature hikes
,
Family events at the Geo Centre, Pippy Park and Botanical Gardens
, etc. This Sunday there is also the
St. John's Pride Week Parade
to check out - I don't know if it will be as risque as they can be in other provinces (I'm thinking Toronto), so visit the calendar to get details/contact information if you are concerned.
If you want a Girls Night Out this weekend, then register for
E.L.L.E - the Everything Ladies Love Expo
, at the Geo Centre on Saturday night. No babysitter? No problem - send them to the
Parent's Survival Night
at
The Little Gym
and they will be safe
and
entertained while you have some "Me-time"!
Don't forget to check my calendar below for all the details on these events and more!
Have a good one!
If you have something to add to the Calendar, please let me know! Complete details can be found here and I welcome being added to any "Events Distribution list" your facility might have :-)