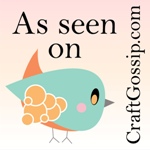 What a fluke - something
wonderful
has happened to me on one of my Marvelous Mondays (then again, maybe this is the kind of thing that happens to you when you call Mondays marvelous ;-)....ok, here's the deets:
A few weeks back, I posted
this baby blanket
that I had made for my cousin's newborn son. Well, guess what? Drum roll please.....
....Today it is featured on
Craft Gossip
!! Imagine that - my blankie on
Craft Gossip
-
THE
"What's Up"
site of the crafting world! I am so flabbergasted and honoured.... see the
ir

post

he
re.
Woot! I think it's gonna be a great week ;-)
Thanks Craft Gossip!