So.... the kids are home for a whole week starting on Good Friday! Worried about keeping them busy?
Don't
fret, dear Reader...remember -
I've got your back!
This round up of fun ideas will keep everyone occupied and happy when the weather prevents outdoor fun ;-)
Amanda over at
Craft Gossip
made these as part of an auction fundraiser for Japan: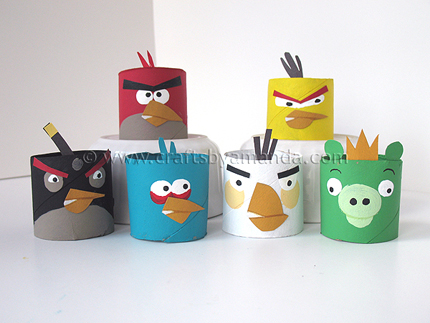 They are SO adorable.... and what a great craft for you & your youngsters! Why not give it a try - uses punches and/or scissors to cut out shapes, and use the picture above as a placement guide to make a flock of your very own.... keep a multitude of small knick-knacks safe in the critters: crayons, bakugans, doll combs/mirrors/shoes, DS games, erasers, stickers....etc.
I'm sure you made popsicle stick & yarn stars for your tree growing up? Well, check out this Spring/summer variation from
Gummylump
(I'm ashamed to have never thought of it! Oh, well, I guess there
really
are folks more brilliant than I
;-):
Another idea that is brilliant in its simplicity: make a hot air balloon out of a paper-strip ball ornament (full tutorial
here
):
Visit
Kaboose
for the how-tos on making these cute little bugs - I think I would use the whole egg carton to make a dozen lady bugs, bees, spiders, etc., then hang them all in a window... wouldn't that be pretty?
Ohhhhh...
Some people are just so smart!! Follow the directions in
this tutorial
, and not only will your rainbow be darn-near perfect: you'll also have a cute mobile!
Amazing Moms has some amazing bunny & chick crafts: click
here
to see how to make them from cups, googlies and other knick-knacks!
Wait!!!!
just
one
more
......(promise)...
....Before you eat the ears off that bunny, trace it!!! That way, you can create one of these cuties with your peeps, just like
Katydid.
:
After all, what's Easter vacation without bunnies?